Sail along the coast of Malaga, together with your favourite cartoon characters in the most special children's birthday party you've ever had. Doesn't that sound great? Below, you'll find everything you need to know about this celebration on a boat, with princesses and/or superheroes on board! Refresh yourself this summer with a very original party.Cumpleaños en barco en la costa de Málaga
A birthday boat trip along the coast of Malaga
Have an unforgettable day at sea with your nearest and dearest, thanks to this exclusive boat trip service. For this children's party, adults and children can go on a boat trip, swim and have a great time with superheroes and/or princesses. 
We have a wide variety of offers that can be adapted to whatever you are looking for! These vary according to the number of people that will attend, the characters you want, as well as other extra services such as catering, a larger boat, etc. What's your dream nautical event? Let us know so we can customise every detail of your sailing party.
For all the available options, the cartoon characters that accompany you on this trip will give you a wonderful welcome in the port of Fuengirola with the best music. It's not every day that you are picked up by boat to celebrate a birthday at sea. Raise the anchors! 
From €230 you can enjoy an intimate party in which you can delight in the tranquillity of the sea and a lovely day with your family. This option includes:
5 guests at the birthday party.
An entertainer and a skipper who will accompany you to ensure a safe, fun journey.
A trip of one and a half hours.
Soft drink and snack to toast the experience together.
For those who wish to enjoy an even bigger boat for a longer time and invite more people, as a gift we will include an additional small boat that allows the children to swim without having to get on the main boat.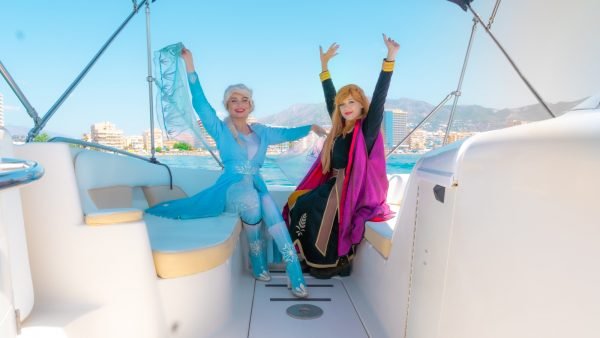 Customise your birthday boat trip
Tell us your idea and we'll make it happen! The offer is very wide and can always be adapted to your needs so that you can enjoy the party of your dreams. To book this service, simply contact us by calling or writing to us on WhatsApp.
Your call or message should give us the following information so we can make your dream come true:
• The duration of the event.
• The number of guests invited.
• The character/s you want for your boat trip, whether princesses or superheroes.
• If you would like a catering service.
Following your request we will offer several alternatives and the price of each, because we want this birthday party to be the best you have ever had. Wait no longer! Contact Celebrando.es to ask us any questions, request a quote or book your boat trip with your children's favourite characters. Enjoy the summer you deserve!